Summary
The instructions provided describe how to back up data from ArcGIS Online to a local machine as a preventative measure to save online content from being permanently deleted.
Procedure
The best practice to back up an organization's content on ArcGIS Online is to save individual copies of the data to a local machine. The following steps are only applicable with data owned by, or shared with, an organization or user.

Warning:
Any content deleted from an organization is permanently removed and cannot be recovered.

Note:
Ensure to log in to ArcGIS Online as an administrator of the organization, or owner of the item being backed up, or the item is shared to the appropriate group, organization, or user. Refer to ArcGIS Online: Export data from hosted feature layers for more information.
To back up data types such as CSV or KML files, shapefiles, map, and layer packages:
In ArcGIS Online, navigate to the Content page.
Open the item details page for the data file and click the Download button.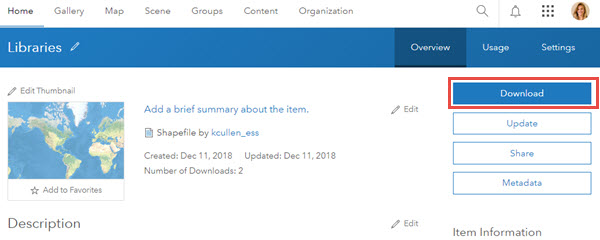 To back up a hosted feature service (which is important if it is edited frequently by multiple users within an organization):
In ArcGIS Online, navigate to the Content page.
Open the item details for the hosted feature service.
Click Export Data, select the data format to export to. The file is saved as an item in My Content.
To download the file, navigate to the item in the content page and follow the download instructions above.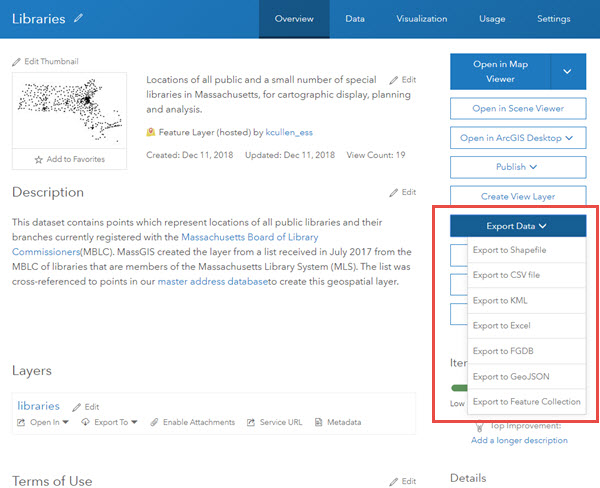 Note:
To download the attachments of the desired data, refer to the instructions in How To: Download attachments from a hosted feature service.