Description
ArcGIS StoryMaps readers cannot save an image from a story by right-clicking the image and clicking Save image as.... In some cases, images must be saved by the story readers to be used accordingly. However, when saving an image, the error message, "Failed - Network error" is returned.

Cause
This is expected behavior in ArcGIS StoryMaps to protect images from being misused by other parties and to avoid copyright issues.
Solution or Workaround
Instead of adding the image directly to the story, provide a URL of the image to let readers download or save the image from the specified location.
Add the image in ArcGIS Online. Refer to ArcGIS Online: Add files from your device for instructions.
In the image items detail page, under Details, click the Share icon and click the Copy icon to copy the Short URL provided to the clipboard.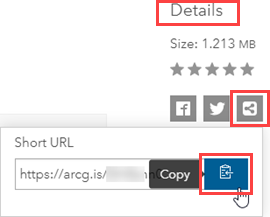 Note:
Image can also be stored in any file storage provider such as Google Drive and OneDrive.

In ArcGIS StoryMaps, click the open button to add a new content block and select Text.
Paste the copied URL and publish the story.
Readers can save the image from the provided URL.