Answer
​It is possible to obtain a detailed error report when working with Model Builder. By default, the after action report only displays limited information about any issues that may occur, and in some cases, error messages are returned. However the information provided in the report may be insufficient, lacking context and scope for troubleshooting. For example, after running a model using the Make Route Event Layer, Feature Class to Feature Class, and the Append tool, an after action report is returned, indicating 'All the inputs are not current'. Without sufficient information or identifying the cause, such as which tool did not complete the process or why.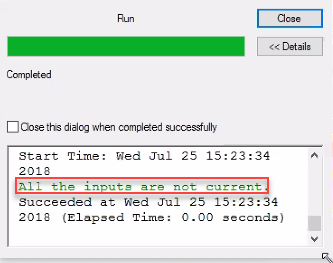 To obtain a detailed version of the error report, follow the workflow below:
Run the model.
In the model window, click Model > Report > View Report in a Window.


 
In the Model Report window, under Processes, expand Messages of the related tool that may have had issues and get the error codes/messages to investigate.


In this example, we can now see that the Make Route Event Layer tool failed and returns a error code specific to the problem, as shown in the image above.