Answer
Generally speaking, it is not possible to use Esri basemaps without an internet connection. Basemaps are accessed as services from the Esri host servers, and to access these host servers and load the basemap images, users must be connected to the internet.

In field applications such as Collector for ArcGIS or Survey123 for ArcGIS, basemaps can be downloaded as tile packages for offline use. Refer to Collector for ArcGIS: Go offline for more information.

The ArcGIS Marketplace also offers the Tile Package Kreator, which allows tiles to be downloaded offline with mobile applications.

To use basemaps offline, users may acquire Data and Maps for ArcGIS or Data Appliance for ArcGIS. These data packages include basemaps and reference layers that are similar to the basemap services accessed through ArcGIS Online. These packages are detailed below.
Data and Maps for ArcGIS
Previously called Esri Data & Maps, this data package includes a set of ready-to-use maps and data layers. The package is delivered on DVD or available as a free download through My Esri.

To download Data and Maps from My Esri, follow the steps below:
Log in to your Esri account.
From the My Esri Dashboard, click the My Organizations tab.
Under My Organizations, click Downloads.

Click Data and Content.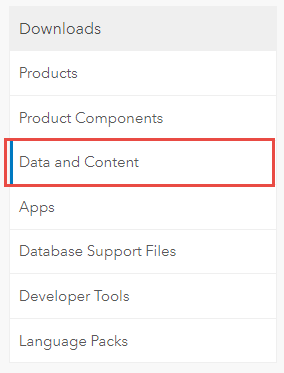 Search for the Data and Maps package. Click Download.

Data Appliance for ArcGIS
This data package provides basemaps and reference layers pre-loaded onto a network-attached storage device that plugs directly into an organization's network. This alternative works with ArcGIS Server to deliver the Esri basemaps for secure mapping applications.

For more information, refer to the Related Information section below.