Summary
This guide can be used to upload photos to missions in Site Scan from a computer. This is an alternative method to uploading from the Site Scan Flight app, and it is the only method of uploading photos to Site Scan if you flew using a different drone flight planning app.
If you flew with the Flight app and want to upload images to Site Scan Manager from the iPad directly, refer to How To: Transfer drone images to an iPad and manage them in Site Scan for ArcGIS. 
Procedure
If you flew a mission with the Site Scan Flight app
In Site Scan Manager, tap Projects and browse to the project that the mission was flown in.
View the missions in the project. If the newest mission is not listed, open the Site Scan Flight app, connect to Wi-Fi, and sync. After a few seconds, the mission should appear in Site Scan Manager. The mission will not contain any photos yet.

Under the mission options, click Upload Photos, as shown in the next image.

In the Mission Photos Upload window, drag and drop the photos to upload. Alternatively, browse for individual photos using the Upload Photos option, or upload all photos in a folder by using the Upload Folder option, as shown in the next image.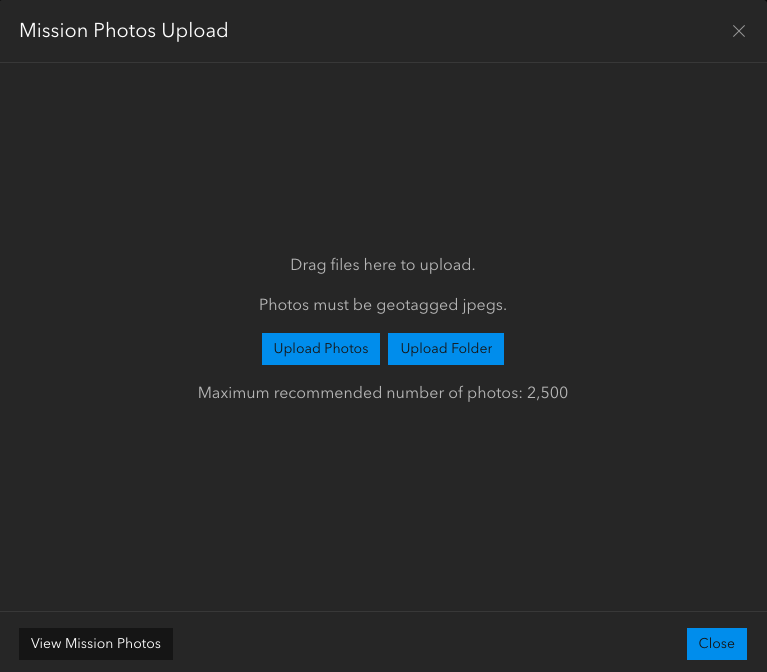 While photos are uploading, you can optionally choose to Automatically process mission when upload completes by clicking the checkbox at the bottom. This processes the mission using project output defaults.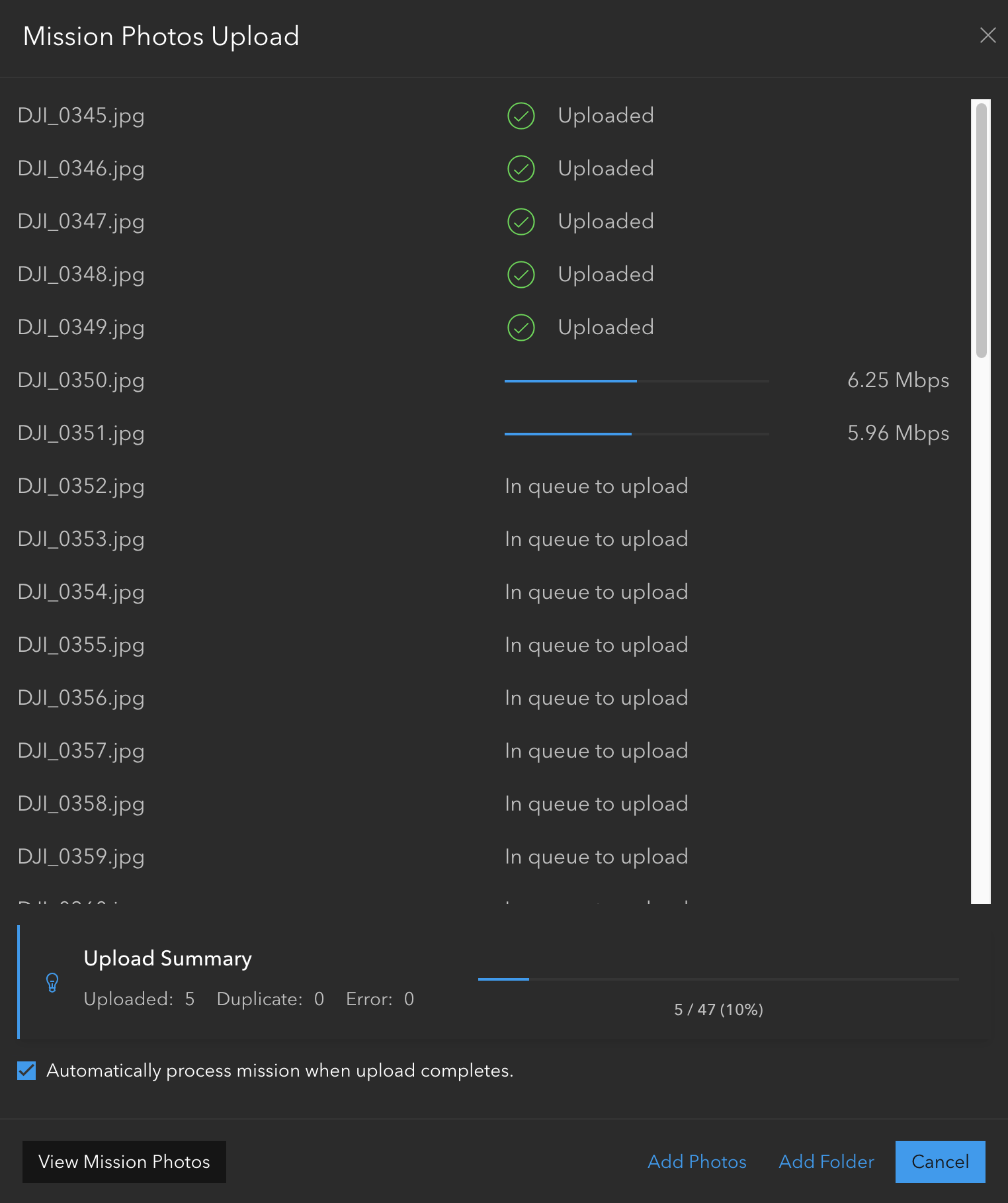 Optionally, once upload is complete, you can verify the photo thumbnails by clicking View Mission Photos. From this menu, you can also delete individual photos.
Open the mission. In the left sidebar, toggle the Photos layer to view the photo locations on the map.
If you did not previously choose the Automatic processing option, click the Process button in the lower left corner of the mission map view.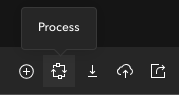 In the Confirm Processing window, adjust the settings as desired and click Process.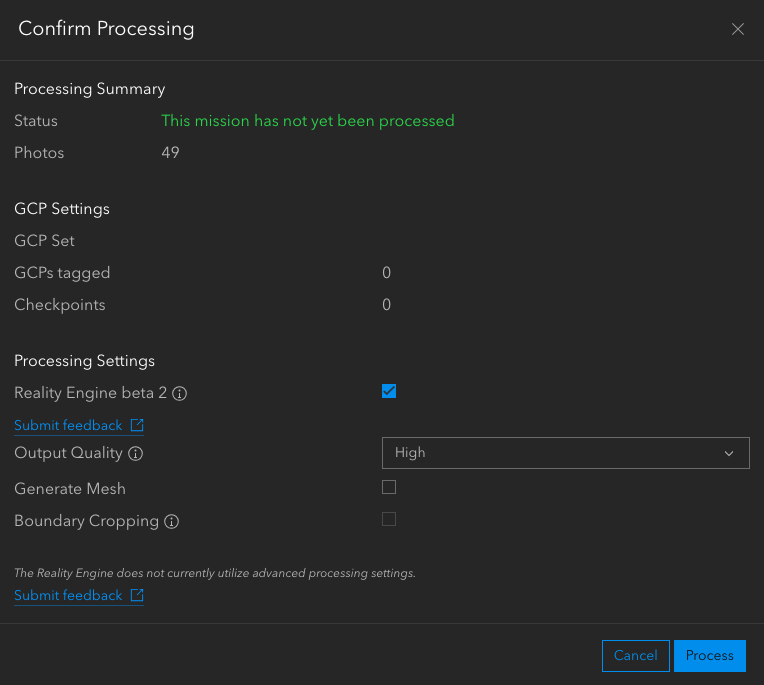 If you flew with a different flight planning app 
If you collected drone imagery but did not use the Flight app, you can upload to Site Scan Manager by manually creating a new mission.
In Site Scan Manager, tap Projects and browse to the project that you want to create a new mission in.
In the upper right corner, click New Mission.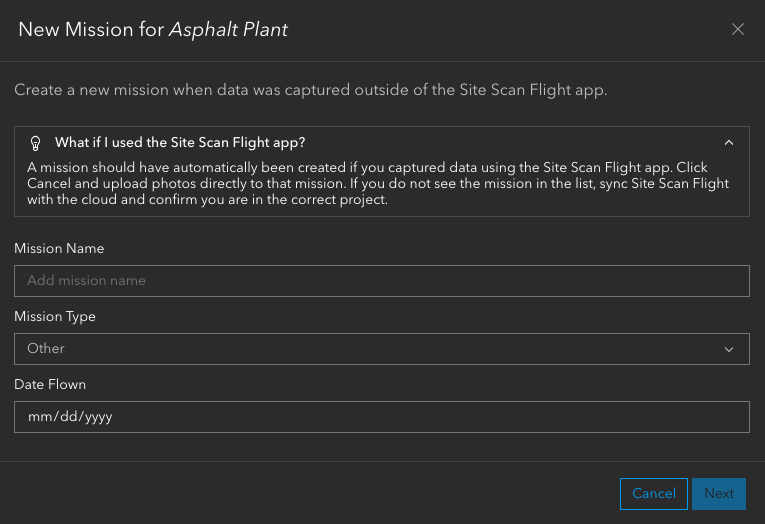 Enter the Mission Name, Mission Type, and Date Flown. Click Next.
Follow steps four through nine above to upload photos and begin processing.