1. Download the (32-bit) Oracle Instant Client from the ESRI Customer Care Portal, and unzip it to a location on the local ArcGIS Desktop machine. Change the name of the folder if desired.
2. Add the Oracle Instant Client path to the beginning of the existing PATH (operating system) Environment Variable.

EXAMPLE:
PATH=C:\OracleInstantClient_32;...
3. Create a file called 'SQLNET.ORA' inside the Oracle Instant Client directory and add this entry to the file:

SQLNET.AUTHENTICATION_SERVICES = (NTS)


Note:
Setting   SQLNET.AUTHENTICATION_SERVICES = (NONE) does not suffice.
4. Create an Environment Variable on the Windows operating system called 'TNS_ADMIN' that references the location of the Oracle Instant Client directory.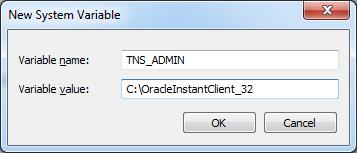 5. Launch ArcCatalog and make a connection using the EZCONNECT syntax and selecting the Operating System Authentication option from the drop-down (the username and password is grayed out).

The EZCONNECT syntax consists of the name of the server machine where the Oracle instance resides, a forward slash, and the name of the ORACLE SID.