Summary
Esri introduced vector basemaps to provide additional options for users. This set of vector basemaps is available through the Esri Vector Basemaps group in ArcGIS Online. Currently, the vector basemaps can be displayed in desktop web browsers.
However, in ArcGIS Web AppBuilder, Esri vector basemaps can only be enabled through organization settings.

Note:
When creating a custom basemap in ArcGIS Web AppBuilder, it is not possible to use vector basemaps because only raster basemaps are supported.
Procedure
The following instructions describe how to add Esri vector basemaps to the default basemap gallery in ArcGIS Web AppBuilder.
Sign in to www.arcgis.com using the administrator credentials.
Navigate to Organization > Settings.
Click Map on the left side of the page.
Under Basemap gallery, check the Use Esri vector basemaps in supported ArcGIS apps. check box.

Note:
The 'Use Esri vector basemaps in supported ArcGIS apps' check box is not displayed for organizations that are already using Esri vector basemaps. Refer to Portal for ArcGIS: Basemap gallery for more information.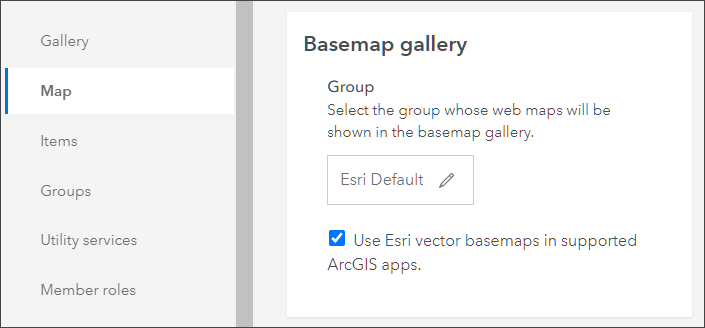 Open a web map application in ArcGIS Web AppBuilder.
Click Widget.
Click the edit icon on the Basemap Gallery widget to open the Configure Basemap Gallery window.
Check the Always synchronize with the Basemap Gallery setting of the organization option button and click OK.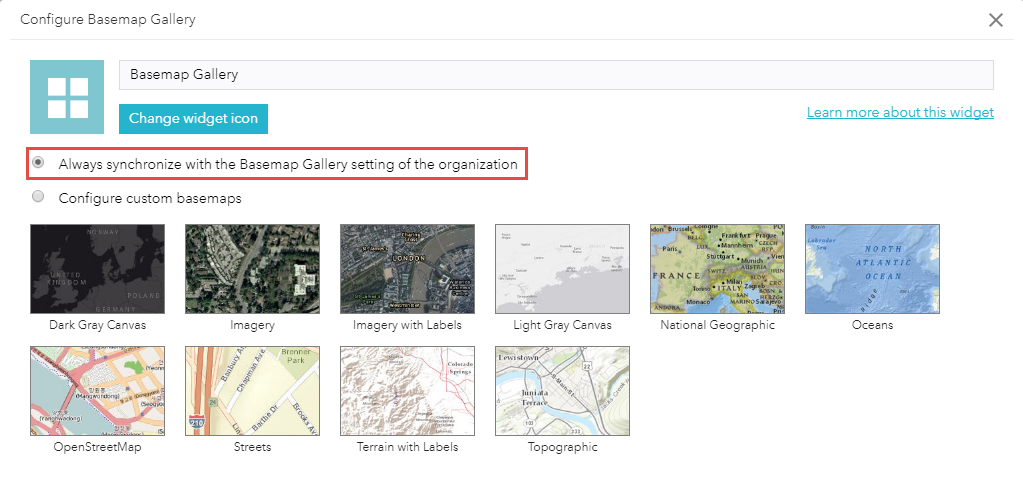 Click the Basemap Gallery widget. Esri vector basemaps such as Streets (Night), Streets, and World Navigation Map are among the selections.