Answer
ArcGIS Pro allows the publishing of various data types to ArcGIS Online and ArcGIS Enterprise using several options. Refer to ArcGIS Pro: Share with ArcGIS Pro for more information on sharing data.
In some instances, when publishing a feature class containing a related table from ArcGIS Pro to ArcGIS Online, the table is not retained. This issue occurs if the feature class is shared through an incorrect process, for example, if the feature class is shared through the Contents pane.
To correctly retain the related table when publishing a feature class to ArcGIS Online, publish all the layers in the map as a web layer using the steps provided below.
In the ArcGIS Pro project, ensure all the feature classes and related tables are added to the same map.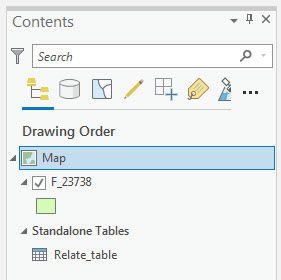 On the Share tab, in the Share As group, click the Web Layer drop-down arrow, and click Publish Web Layer.
In the Share As Web Layer pane, fill in the Name, Summary, and Tags parameters, and click Publish.
To view the related records in ArcGIS Online, open the hosted feature layer in the item details page, and click Open in Map Viewer. Click any feature on the map, and click Show Related Records in the pop-up. Records from the related table of the selected feature are displayed in the attribute table.