Answer
The World Imagery service is frequently updated to ensure that the most current imagery is available in ArcGIS Online. With the January 2018 update, Esri has started using +Vivid imagery in the World Imagery service, which greatly improves the currency of the service. For more information on the January 2018 update of the World Imagery basemap, refer to the following post, ArcGIS Blog: What's New in World Imagery Basemap (January 2018). However, in some instances, cloud cover and other differences in resolution may occur due to the update.

As an alternative, use the World Imagery (Clarity) basemap tile service instead of the default World Imagery basemap. Although the data in this layer may not be the most up-to-date satellite imagery, the images presented in the tile layer are from Esri's archive that are clear and accurate.

To use the tile layer in ArcGIS Online, navigate to ArcGIS: World Imagery (Clarity), and click Open in Map Viewer.

To add the tile layer to a map document in ArcMap, follow the steps provided below:
Navigate to File > Add Data > Add Data from ArcGIS Online.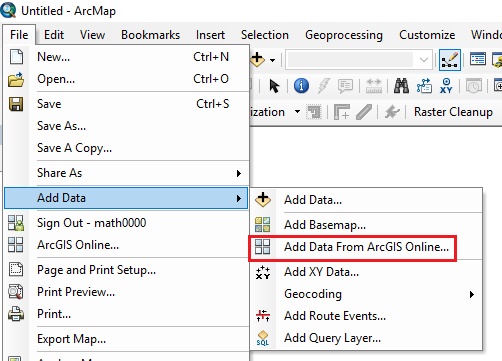 Search for World Imagery (Clarity), and click Add.