Description
If the connection to a file geodatabase is lost while running the Build Pyramids tool, attempting to rerun the tool fails.

In some instances, the user is also unable to add rasters to the dataset and the following error is displayed: "Invalid raster dataset. Failed to create raster layer."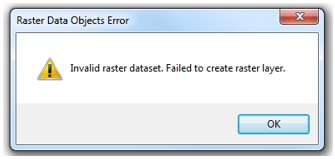 Cause
The pyramids or file geodatabase may have become corrupt as the tool failed while processing the raster datasets.