Description
In some instances, when using the Disperse Markers tool in ArcMap, there is no drop-down button to select a layer in the 'Input Point Features With Marker Representations' field even though there are layers containing x,y events in the Table Of Contents pane.

Cause
The Disperse Marker tool does not support layers based on x,y event layers or x- and y-coordinates defined in a table as the input parameter. If the layer is added from a Microsoft Excel table or using the Make XY Event Layer tool, the layer does not appear in the drop-down list.
Solution or Workaround
To resolve this issue, export the x,y event layer to a file geodatabase, and convert the symbology in the exported layer to representation.
After adding the layer containing the x,y event in the Table Of Contents pane, create a file geodatabase.
Export the layer to the file geodatabase. Refer to ArcMap: Exporting features for more information.

Note:
Click Yes in the dialog box to add the exported data to the map as a layer. 




In the Table Of Contents, right-click the newly added layer and select Convert Symbology to Representation.

In the Name field of the Convert Symbology to Representation dialog box, define a name for the representation layer.
If necessary, check the Behavior When Representation Geometry is Edited and Assign Representation Rules To options.
Click Convert.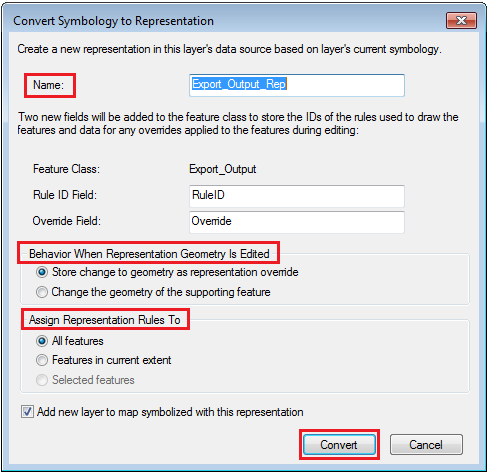 After completing the steps above, the drop-down option to select the x,y event layers is now available in the Input Point Feature With Marker Representations field.