Description
The rulers are grayed out or display as very small when viewing a map document in ArcMap Layout view. Navigating to File > Print or File > Page and Printer Setup may also crash ArcMap.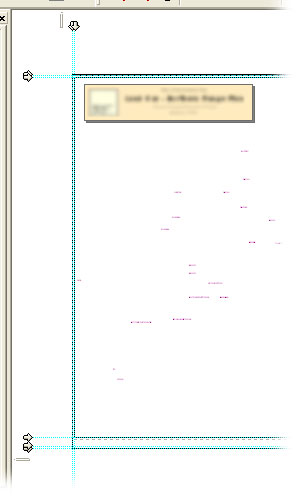 Cause
The map document contains corrupted printer information. The map was most likely saved with 'Same as Printer' (from ArcGIS Desktop 8.x) or 'Use Printer Paper Settings' (from ArcGIS 9.x).

The printer information saved in the map document may be corrupt because it has:
a) been moved to a new server location,
b) corrupted drivers installed, or
c) has had a new driver installed, causing ArcMap to not find the information it is looking for in the driver.
Solution or Workaround
The following options are the most common methods for resolving this issue:


Delete the printer and driver and reinstall them. See the link "Delete a printer and its driver" in the Related Information below for more instructions.
Download and install the latest printer driver from the printer manufacturer. See the link "HP Software & Driver Downloads" in Related Information below.
Use the MXD Doctor on the map document. The MXD Doctor is available from installing the ArcGIS Desktop Developer Kit; start the MXD Doctor by navigating to Start > Programs > ArcGIS > Developer Tools > MXD Doctor.



Note:
Using MXD Doctor creates a copy of the map document, so it is relatively safe to use. This method has a high probability of resolving the problem, however if it is unsuccessful, the following option is usually successful.



Open the map document in ArcMap on a computer that does not have any printers installed, including Windows Fax or PDF writers, etc., and save the map document.

Because the computer has no printers installed, ArcMap will ignore the corrupt printer information in the map document and open it normally. By saving the .MXD, it removes all references to printer information in the map document.

Open the map document on the computer that has the target printer installed and reset the printer and printer paper size and orientation.