Description
A map exported to PDF from ArcGIS 10 results in a larger file than one exported from ArcGIS 9.x.

Note:
The content in this article pertains to ArcGIS versions 9.x and 10 only. Later versions of ArcGIS may contain different functionality, as well as different names and locations for menus, commands and geoprocessing tools.
Cause
At ArcGIS 10, the default image stream compression for PDF was changed from 'Deflate' to the new 'Adaptive' compression option.

This reduces the default size of a PDF containing raster data such as orthophotography or other highly varied raster content.

However, for some maps that contain large areas of contiguous color that become rasterized, setting the image compression to 'Deflate' compression may actually result in a smaller output file.
Solution or Workaround
Changing the image compression back to 'Deflate' for these maps results in PDF file sizes similar to ArcGIS 9.x.

Note:
Maps containing highly varied raster imagery such as orthophotos result in smaller PDFs when using the 'Adaptive' or 'JPEG' compression options. Switch the compression back to 'Adaptive' or 'JPEG' when exporting these types of map content. 
Go to the File menu and select Export.
On the resulting Export Map dialog box, select PDF file format.
Click the Format tab.
Click the Image Compression drop-down menu and select Deflate.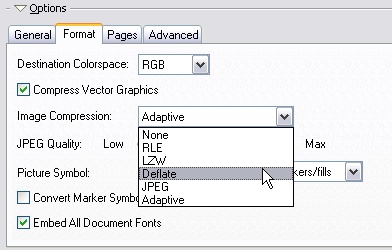 Set any other desired options, and enter a file name. Click OK to complete the export.