Description
After upgrading ArcGIS Pro to another version, the layer templates in the Layer Templates group appear empty as shown in the image below.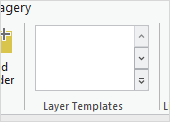 Cause
ArcGIS Pro is improperly upgraded where certain elements on the ribbon are affected. For example, this issue can occur due to overwritten files within folders while upgrading the application.
Solution or Workaround
To resolve the issue, perform a soft reset by renaming the resource index folder of ArcGIS Pro in File Explorer.
Close all ArcGIS applications on the machine.
Open File Explorer, navigate to and open the ESRI folder.

C:\Users\<user profile>\AppData\Local\ESRI


Note:
The AppData folder is hidden. Refer to Microsoft: Show hidden files for instructions to display hidden folders.
In the ESRI folder, navigate to the Index folder, and rename the folder to Index_OLD.

Close the File Explorer window.
Launch ArcGIS Pro.