Description
When displaying image points in the Drone2Map for ArcGIS 3D view, the image points and flight paths are not visible on the surface.
Cause
The elevation of image points and flight paths captured by the drone may be below the ground surface. For example, the elevation of the surveyed area is 2,500 feet, but the altitude captured by the drone reports 2,300 feet. This renders the photo points and flight lines 200 feet below the surface.
Solution or Workaround
To resolve, adjust the image point altitude.
Calculate the difference between the altitude reported for the image on the ground versus the images captured during flight.
In the Drone2Map for ArcGIS 2D view, select all the image points. Click the Select Image Points button, and draw around the images. The selected image points are enhanced and highlighted on the map. They are highlighted in grey on the image list.
Click the Flight Data tab, and click Image Altitude .
In the Adjust Image Altitudes dialog box, uncheck Use Metadata, and set the Flight Altitude to the value calculated in Step 1.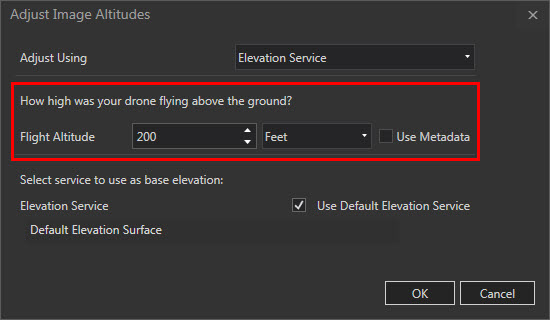 Click OK to apply the edits.
For more information on adjusting image point altitudes, refer to Drone2Map for ArcGIS: Adjust image altitudes.