Description
When creating a vector tile package using the Create Vector Tile Package tool in ArcGIS Pro and checking the Package for ArcGIS Online option, the following error message is returned:

Error:   
ERROR 000707: Spatial reference of the tiling scheme does not match the spatial reference of the data frame
Failed to execute (CreateVectorTilePackage).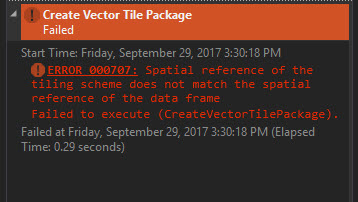 Solution or Workaround
To resolve the issue, use the following steps to change the coordinate system of the data frame to match with the spatial reference defined for the ArcGIS Online tiling scheme, and rerun the tool:
In the Contents pane, right-click the map and click Properties.
Click Coordinate Systems.
Under the XY Coordinate Systems Available section, select WGS 1984 Web Mercator Auxiliary Sphere, and click OK.