Description
When trying to open a PMF in ArcReader installed on a Microsoft Surface Pro, the software crashes with the following message:

"ArcReader.exe has stopped working. A problem caused the program to stop working correctly. Windows will close the program and notify you if a solution is available."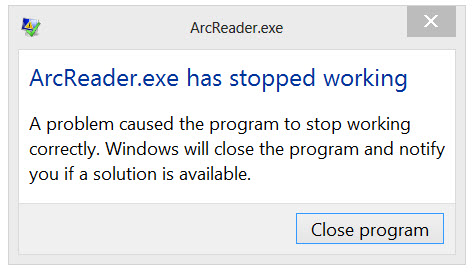 Cause
There is a conflict with graphics card driver 9.17.10.3062 (dated 3/8/2013).
Solution or Workaround
Roll back the driver to 9.17.10.2867 (dated 12/5/2012) resolve the issue.


Go to Control Panel > Display.
In the Display section, click the Adjust Resolution link on the left.
In the Screen Resolution section, click the Advanced Settings link in the middle right of the dialog. This opens the graphics card properties dialog box.
From the Adaptor tab, click the Properties button.
Click the Driver tab. Click Roll Back Driver, the third button, if driver 9.17.10.3062 is installed.
In the new dialog box, click Yes to confirm rolling back the driver.