Description
Scene layer packages in ArcGIS Pro can be published to ArcGIS Online as web scene layers. In some cases, web scene layers published from a scene layer package fail to display when opened in Scene Viewer.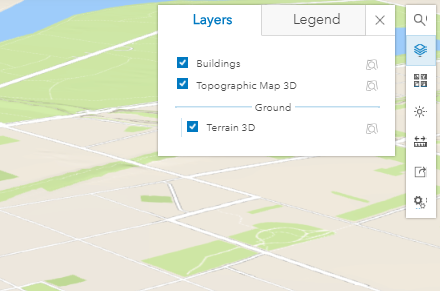 Cause
This issue occurs when the ground layer (Terrain 3D) in Scene Viewer overlaps the scene layer. The ground layer, also known as the elevation layer, provides base heights for other layers in a scene and defines height values across the extent of a scene.
Solution or Workaround
Deselect the ground layer option by unchecking the Terrain 3D box in Scene Viewer.
In Scene Viewer, click the Layers/Legend tool > Layers.


 
Deselect the Terrain 3D check box.


 
Click the Zoom to button to zoom the scene to the layer's extent. The scene layer is displayed in Scene Viewer.