Summary
Instructions provided describe how to save paper when printing from ArcMap.
Procedure
ArcMap follows the Microsoft standard format for Windows printing, in which the application is sent to the printer in the orientation in which it was created. Rotating prints to save paper is only available based on the manufacturer's printer driver and is usually not something the application has control over. Please check the manufacturer's printer driver or contact the support group of the printer manufacturer for further assistance with their driver.
Esri does provide a limited paper saving option in the ArcPress printer engine.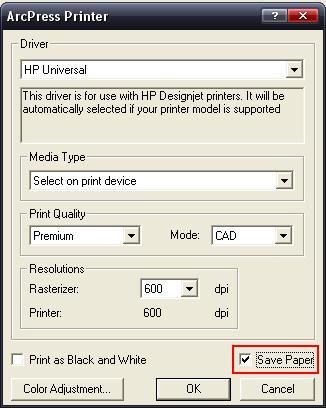 Please see the link in the Related Information section below for an ArcGIS Desktop Help topic concerning how to print with ArcPress, as well as the ArcPress Save Paper option.