Summary
In some instances, it may be necessary to export the list of layers and properties such as name, data sources, symbologies, representation, and the definition queries of a map document to a report or table format. This allows sharing of dataset properties being used or modified by other users.

This can be done by using the X-Ray for ArcMap add-in. The X-Ray add-in provides an inventory of information about a map document. As well as documenting layers and their properties into one HTML document, this add-in also has the following functionalities:
The X-Ray Map Differences button that generates a report of differences between the current map document in ArcMap and another map document selected in the Catalog window.
The Edit Layers option, which opens an Excel file for the layers in the map document and allows users to edit each layer's description.
The Synchronize field aliases for layers and source datasets.
Procedure
To generate the map document properties report, follow the instructions below:
Download the X-Ray for ArcMap add-in.
Open the downloaded file.
In the Esri ArcGIS Add-In Installation Utility window, click Install Add-In.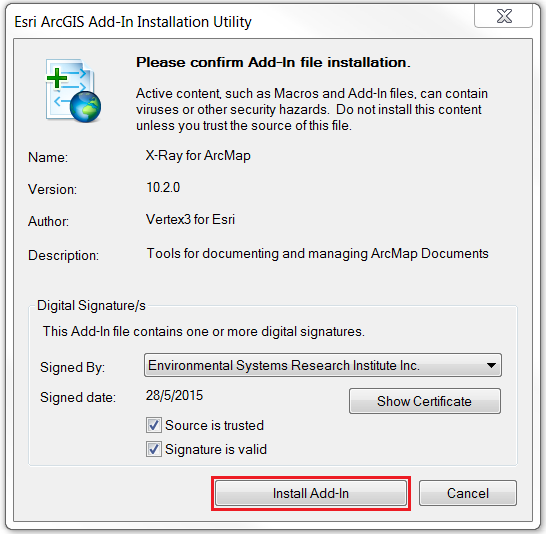 Click OK on the installation success pop-up box.
On the ArcMap main menu, click Customize > Toolbars > X-Ray for ArcMap.
On the X-Ray for ArcMap toolbar, click the Combines the 3 Layer Reports into one Html document button to generate the X-Ray report for all the layers in a map document.
The image below shows the resulting X-Ray report generated for a map document.