For printing to an HP DesignJet 450, 500, 750, 800, 1050/1055, 2500, 3500, and 5000/5500 series printer, use the ArcPress RTL Device Dithered RGB driver.
<a href='http://support.esri.com/en/knowledgebase/techarticles/detail/17281' target='_blank'>FAQ: Does ArcPress support the HP DesignJet 5500, 5000, 800 or 500?</a>
To select the RTL Device Dithered RGB driver:
1. Click Print. 
2. On the Print menu, select the appropriate HP DesignJet printer from the Printer drop-down list. 
3. Select HP RTL from the Device drop-down list. 
4. Click Options. 
5. On the Color tab, select the RGB Configuration radio button. 
6. This enables the Hardware check box under Dithering. Check this box. 

This disables all the color correction, saturation and dithering options. 

7. Click OK to approve these options.
8. Click OK on the Print menu to print.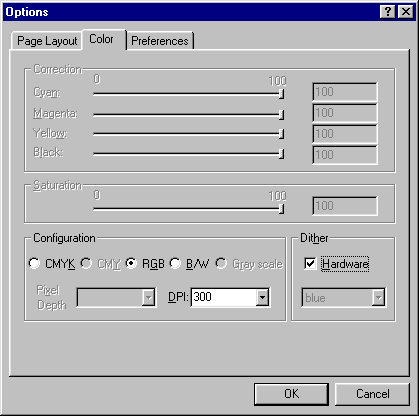 When printing to a another printer that uses a non true color printer driver such as the RTL Device Dithered RGB driver, the best way to lighten the output is to reduce the percentages of CMYK.
1. Send the layout or view to ArcPress by clicking File > ArcPress or the ArcPress button. 
2. Click Print.
3. Select the printer.
4. Select the device.
5. Click Options.
6. Click the Color tab. Change the values for Cyan, Magenta, and Yellow to 55. Change the value for Black to 90. (See below)
Another option is to lower the total color saturation. However, better color control is achieved by modifying the CMYK values.
7. Click OK in the Options dialog box. 
8. Click OK to print.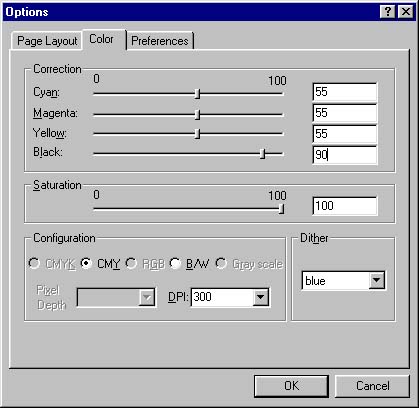 If the map includes images, lighten the colors in the legend editor in ArcView before printing.