Summary
When installing ArcGIS Notebook Server on Windows, the installation of Docker Desktop causes entries to be written to the machine's hosts file that could cause problems with the way our software interprets the machine name.

This installation method assumes that all system requirements are met, keeping in mind that all minimum system requirements (CPU, RAM, storage) for each component are additive to maintain a supported environment.
Docker Desktop installed on a Windows machine writes entries to the system's hosts file that use the machine IP address to identify both host.docker.internal and gateway.docker.internal. This could potentially be picked up by other components of ArcGIS Enterprise, Portal for ArcGIS, ArcGIS Server, ArcGIS Notebook Server, and ArcGIS Data Store, and not only cause a name change in the software's definition of the machine but also cause auxiliary issues in how ArcGIS Server and ArcGIS Data store communicate.

The following image shows an example hosts file following Docker Desktop installation: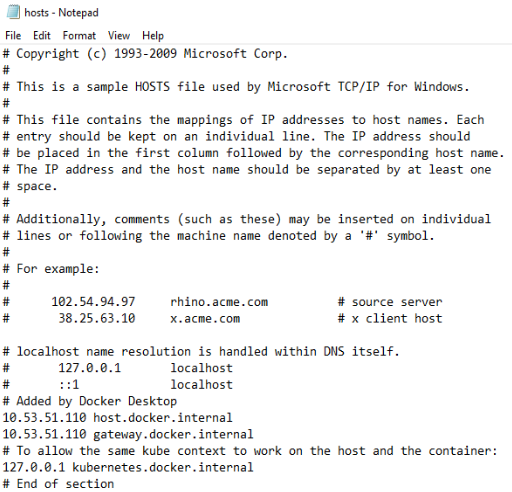 Procedure
As a precaution, to prevent the components of ArcGIS Enterprise from using the incorrect machine name for configuration and communication (due to the host file entry made by installing Docker Desktop), follow the instructions for each component to define the hostname to the software before installation of Docker Desktop.

This includes adding an entry for hostname=machine.domain.com in the created hostname.properties file for ArcGIS Enterprise Portal, ArcGIS Server, and ArcGIS Notebook Server, as well as adding an entry in the hostidentifier.properties file for hostidentifier=machine.domain.com for ArcGIS Data Store.

Ideally, this would be done before creating each of the respective sites, but can also be performed after configuration if the machine names are confirmed in the Admin > Machine endpoints for ArcGIS Portal and ArcGIS Server.

Documentation can be found in the Related Information section below, in the 'Multiple NICs or DNS entries' sub-heading for each product.