Summary
Instructions provided describe how to batch encode rasters to MrSID. Many rasters can be encoded to the MrSID format at once with the batch option.

Batch encoding of many file-based raster datasets to many new MrSID files is supported in ArcGIS. Mosaicking many file-based raster datasets into one continuous/seamless MrSID file is possible, but requires an additional MrSID license. Without this license, users are only able to encode up to 50MB of data, and do not have the ability to mosaic raster datasets.

It should be noted that the additional MrSID license, which allows mosaicking of many input rasters having a total input size of 500MB per mosaic, is only available at ArcGIS 8.x. It is not available at ArcGIS 9.0 or higher.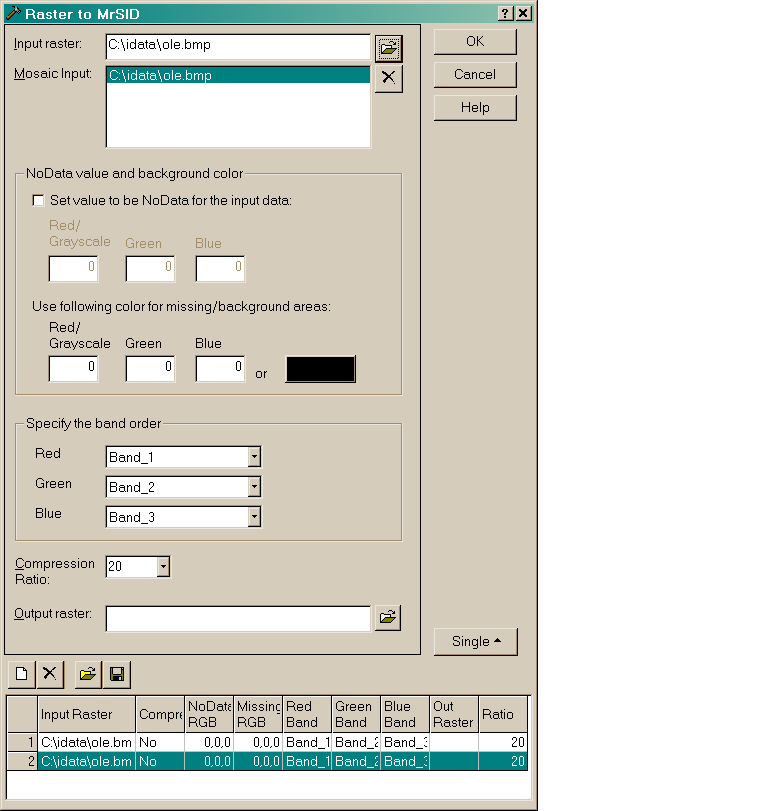 Procedure
These procedures should take place within ArcCatalog.


Right-click one of the raster datasets to convert.
Point to export, and click Raster to MrSID.
Click the output button and select the proper output path and name.
Click the batch button, near the bottom right of the dialog box.
Click the Add Row button.
Add an input raster dataset.
Specify the output path and name.
Repeat steps 5 through 7 for all the raster datasets to add to the batch process.
Click OK to start the batch encoding.