Answer
When running a VB script on a new version of ArcGIS Desktop, a Windows Script Host error message may display that reads, "Could not create object named esriGeoprocessing.GPDispatch.1".



Windows Script Host error message: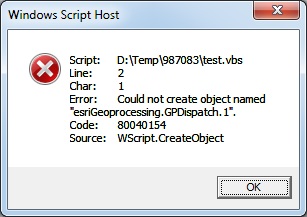 This issue occurs when the new version of ArcGIS is installed on a system that is running a 64-bit version of Windows. ArcGIS and the geoprocessor are still 32-bit code products, but by default on a 64-bit machine, the 64-bit version of VBScript runs automatically when a VBScript file is launched. For more information, the technical article under Related Information describes how to call the 32-bit version of VBScript to execute the code.