Answer
Like the split policy for a domain, the Field Info SplitPolicy option determines how fields are populated when changes are made to the feature class using the Analysis tools > Overlay or Extract tools.

There are two options for Split Policy:
· NONE: No changes are made to the field values when the geometry of the feature is changed.
· RATIO: The field value are divided based on the proportion of the original geometry in the resulting feature. This option is appropriate for Numeric fields, and does not apply to the Make Table View tool.

Field Information Parameter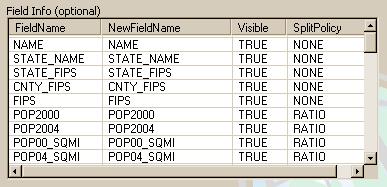 The SplitPolicy option can be used in the following tools:


Make Feature Layer
CAD to Feature Class


When Make Feature Layer is followed by an Overlay or Extract tool, such as Erase or Clip, in a model, setting the Split Policy to RATIO adjusts the values for those features that were modified. The output values are a ratio of the original values based on the proportion of the original feature.

The green feature was input into Make Feature Layer. The Split Policy was set to RATIO for the Area and Population fields. The feature was clipped, and the output is shown in blue outline. The original and "clipped" attributes are shown below.