Error Message
As of August 20, 2005, the following error message appears when opening an ArcIMS Java Viewer that has been customized to use ArcIMS JAR files in a location other than the default ArcIMS\jre\lib\ext location: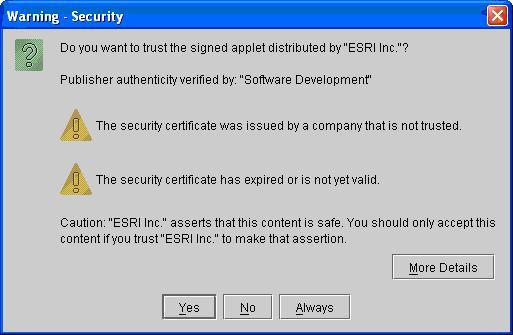 'Do you want to trust the signed applet distributed by "ESRI Inc."?Publisher authenticity verified by: "Software Development"The security certificate was issued by a company that is not trusted.The security certificate has expired or is not yet valid.Caution: "ESRI Inc." asserts that this content is safe. You should only accept this content if you trust "ESRI Inc." to make that assertion.'
Cause
The digital certificate for the ArcIMS JAR files expired August 20, 2005. Further, this error message ONLY appears on Java Viewers where the user has moved the ArcIMS JAR files from the standard ArcIMS\jre\lib\ext folder to a different folder.

There are very few use cases for why an ArcIMS user would want to set up their Java Viewer with the ArcIMS JAR files moved to a new folder. One case is when the user does not want to use the viewer installation and instead wants to download the JARs directly to the client machine. An ArcIMS user who wants to set up their Java Viewer for this type of scenario would need a good understanding of applets and of how to make the necessary edits to the default2.htm, ie.htm, and viewer.htm files to reflect the new location for the ArcIMS JAR files.
Solution or Workaround
Select the 'Always' option on the error message to avoid seeing this error message again.

Alternatively, select the 'Yes' option on the error message to view this Web site on a one-time basis only. The next time the Web site is viewed, the error message appears again.