Error Message
The following error occurs when attempting to view a Personal Geodatabase in ArcCatalog, or when attempting to Add Data in ArcMap."Failed to connect to database.
An underlying error occurred.
Unrecognized database format 'C:\Test.mdb'."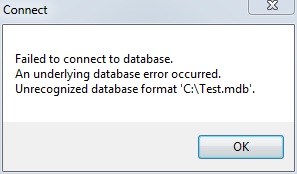 Cause
The geodatabase has become corrupt or has been modified in another application, for example, with a text editor.

This error can be reproduced by opening the .mdb file in Notepad, deleting a few lines, saving the database, and then trying to view the database in ArcGIS.
Solution or Workaround
There are currently no solutions or workarounds, as these geodatabases cannot be recovered. Editing Personal Geodatabases outside of ArcGIS is strongly discouraged.