Error Message
When adding the service URL from ArcGIS for Server to an ArcGIS Online web map and login credentials are entered in the Sign In dialog box, the following error is returned:

"Unable to access the authentication service."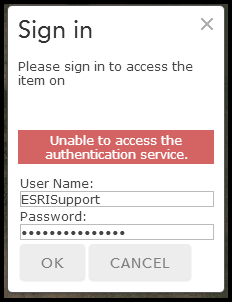 Cause
This issue occurs when the certificate chain is broken between an SSL certificate and a trusted root Certificate Authority (CA) that allows a trusted path and secure connection between the ArcGIS for Server machine and the ArcGIS Online browser.

Note:
SSL Certificates are small data files that digitally bind a cryptographic key to an organization's details and allow secure connections from a web server to a browser.
A certificate chain is a trusted path established by a string of digital certificates that are trusted by the certificate authority higher in the chain to provide the secure connection between the browser and the web server. The chain begins at the trusted root CA, through intermediate certificates, and ends with the end-entity certificate issued to users (in this case the SSL certificate).
Example of unbroken certificate chain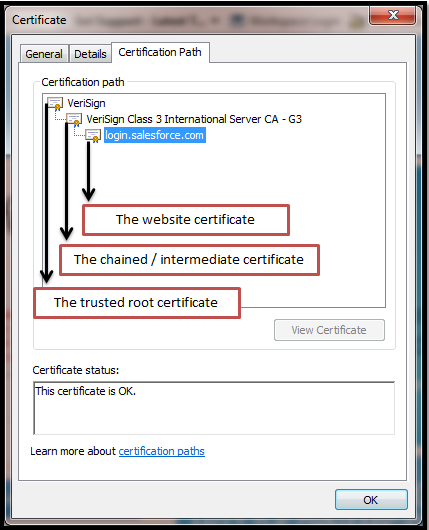 A certificate chain is considered broken when the certificate chain is not trusted by the root CA or an intermediate certificate that links the end-entity certificate to the trusted root is not installed.
Example of broken certificate chain

Solution or Workaround
Install an intermediate certificate to link the SSL certificate to the trusted root CA.

Note:
Visit this website to verify the SSL certificate.