Error Message
When running geocoding tasks (such as finding an address, adding an address locator, or batch geocoding with an address locator) the following error message is displayed warning the user of a damaged Address Locator which requires repairing:

Error:   
"The address locator is damaged. Would you like to repair it? Resource is not available, regardless of authorization."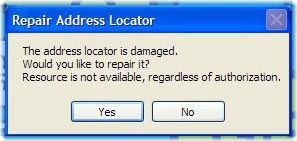 Note:
Other similar error messages may appear depending on the address locator selected in ArcGIS.
Cause
This error message is triggered due to an attempt to use address locators created prior to the ArcGIS 10.1 Service Pack 1 update, that is pointing to a deprecated geocoding service. This is listed in the DefaultLocators.xml file, which was discontinued on 5 February 2014. This .xml file is responsible for populating the list of locators seen in the Geocoding toolbar and the Locations tab of the Find tool.
In ArcGIS 10.1 SP1 and later, the deprecated geocoding service in the DefaultLocators.xml file is replaced with a subscription-based ArcGIS Online World Geocoding Service. However, the .xml file still retains the Military Grid Reference System (MGRS) locator found in prior versions of ArcGIS 10.1.
Solution or Workaround
ArcGIS Desktop 9.3.x

Upgrade to ArcGIS for Desktop 10.x or higher to be able to use the new geocoding services.

ArcGIS Desktop 10

To remove the deprecated address locators, and to add the ArcGIS Online World Geocoding Service to the defaultlocators.xml file, refer to the following article, How To: Add the World Geocoding Service to the list of default locators in ArcGIS Version 10.0.

ArcGIS for Desktop 10.1 and 10.2

Warning:
For ArcGIS 10.1, please install the ArcGIS 10.1 Service Pack 1 update before attempting any of the solutions below.
Select one of the three options below.
Use the free Data and Maps locators downloaded from My Esri.
Log into http://my.esri.com.
On the Dashboard, click My Organizations > Products > Manage Downloads.
Select the ArcGIS version that is installed and click on the Additional Products link.
Locate the Data and Maps for ArcGIS files and download both using the Esri Download Manager.
Select a destination folder to extract the installation files.
Follow the assembly instructions in the readme.txt in the downloaded files folder.
Navigate to the locators in Data and Maps for ArcGIS and drag the required locator into the map from ArcCatalog to activate the locator.