Error Message
When performing a calculation, the following error may be displayed:

"File sharing lock count exceeded. Increase MaxLocksPerFile registry entry."
Cause
The MaxLocksPerFile registry setting is too low. MaxLocksPerFile is a Microsoft Jet registry setting that is set to 9500 by default. A test with the default value for this setting allows the calculation of 139,000 selected records in Microsoft Access.
Solution or Workaround
Use the Advanced ArcMap Settings utility to increase the MaxLocksPerFile value. This utility allows modifying the registry settings used by ArcGIS.
Run the AdvancedArcMapSettings.exe application file.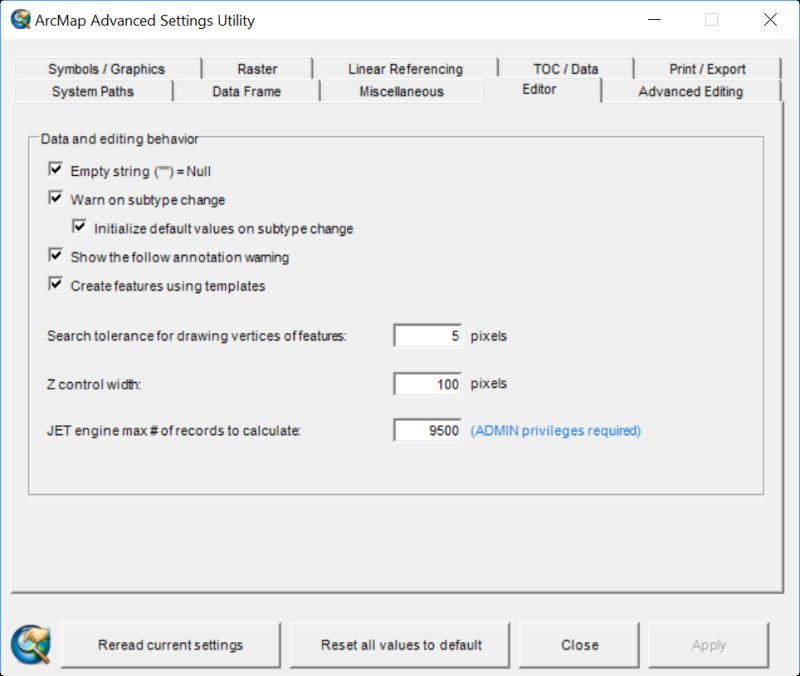 AdvancedArcMapSettings.exe is found in the following locations:
ArcGIS versions 9.0, 9.1, 9.2, 9.3, and 9.3.1 <drive>:\Program Files\ArcGIS\Utilities.
ArcGIS version 10.x: <drive>:\Program Files (x86)\ArcGIS\Desktop10.x\Utilities

Note:
This utility has a slightly different look depending on the version of ArcGIS.
Click the Editor tab.
Update the JET Engine max # of records to calculate to a value larger than the number of records currently in the dataset.
Exit AdvancedArcMapSettings.exe.
Perform the calculation again.