Error Message
In ArcGIS Pro, attempts to add a feature layer to a map from Portal for ArcGIS fail with the following error message returned:

Error:
Failed to add data: <Service URL>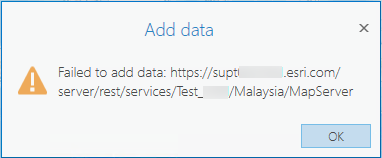 Cause
The service is not running in ArcGIS Server Manager.
The layers are corrupted because the layer's data sources are broken. This may happen after upgrading to a newer version of ArcGIS Enterprise.
Solution or Workaround
Ensure the ArcGIS Server service is running before adding the feature layer to the map
Start the service in ArcGIS Server Manager. Refer to ArcGIS Server: Start a service in Manager for instructions. If the service is running in ArcGIS Server Manager, stop and start the service.
Repair the broken feature layer's data source in ArcGIS Pro
Ensure the layer's source is not broken, which is indicated in the Contents pane with a red exclamation point icon

next to the layer. Repair the broken data sources for the layer if it cannot be added to the map. Refer to ArcGIS Pro: Repair broken data sources for layers and tables for more information.