Error Message
The error message below appears when launching ArcGIS for Windows Mobile for the first time after its installation on a Windows Mobile GPS device that is disconnected from the internet."Cannot connect to server. Please enter a valid server and instance name."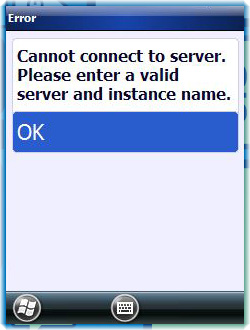 Cause
The error occurs when the GPS device does not contain a mobile project in the 'My Documents > ArcGIS Mobile' folder directory on either the GPS device's main memory or SD card.
Solution or Workaround
Warning:
The following steps only apply to the Desktop workflow for creating a mobile project for use in ArcGIS for Windows Mobile. This is only performed once per mobile GPS device used.
Connect the GPS device to the desktop via USB cable.
On the desktop, click 'My Computer' and navigate to the connected GPS device.


Navigate to the GPS device main memory, and double-click the 'My Documents' folder.



Note:
If an SD card is used, manually create the 'My Documents' folder.



Create a new folder called 'ArcGIS Mobile'.


Once the mobile project folder is generated, copy and paste the folder into the new ArcGIS Mobile folder in the GPS device's main memory.

When ArcGIS for Mobile is launched, the GPS device opens the mobile project automatically. If more than one mobile project is available on the GPS device, the application opens a list of each project.