Description
** This issue has been resolved in ArcGIS 9.1 **

If a data frame contains WMS layers the coordinate system of a data frame can be changed using WMS layer Change Coordinate System dialog box.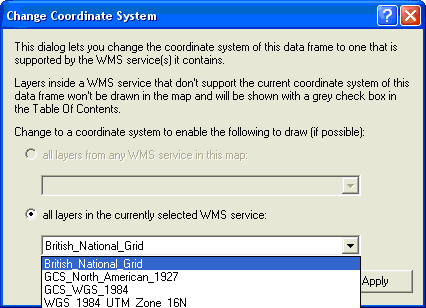 Using this dialog has no effect. The coordinate system is not changed.


** The feature addressed in this article is only available in ArcGIS 9.0 Service Pack 2, which can be downloaded through the link in Related Information, below. **
Cause
This dialog does not work when used in Layout View.
Workaround
Switch to Data View and then use the Change Coordinate System dialog.