Description
A WMS service may contain abstracts describing layers, group layers and sublayers. In ArcMap, abstracts for WMS layers and sublayers are displayed in the Description text box of the Layer Properties General Tab. For group layers (layers that group multiple WMS sublayers together), abstracts are not displayed in the description.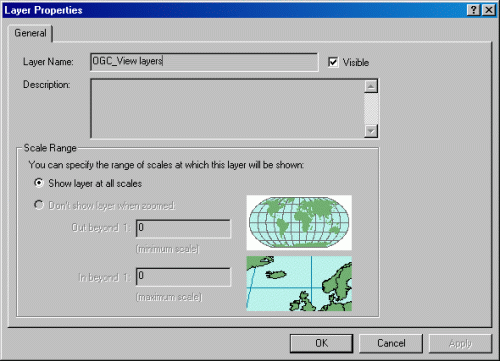 ** The feature addressed in this article is only available in ArcGIS 9.0 Service Pack 2, which can be downloaded through the link in Related Information, below. **
Cause
ArcMap does not recognize group layer abstracts provided by WMS servers.
Workaround
WMS group layer abstracts can be viewed via the ArcCatalog Service Properties dialog box, the Layer tab in the ArcMap Layer Properties dialog box, or the WMS service capabilities file.
<a href='http://support.esri.com/en/knowledgebase/techarticles/detail/27948' target='_blank'>How To: View the WMS service capabilities</a>