1. Create a new batch file with the following contents:
Code:
net start "ArcGIS License Manager"
2. Name the batch file 'startlm.bat' and save it to a known destination on the C: drive.
3. Click Start > Control Panel > Scheduled Tasks > Add Scheduled Task.
4. In the Scheduled Task Wizard window, click Next.
5. Click Browse, search for the created batch file, and click Open.
6. Name the task 'startlm', and under Perform this task, click 'When my computer starts'.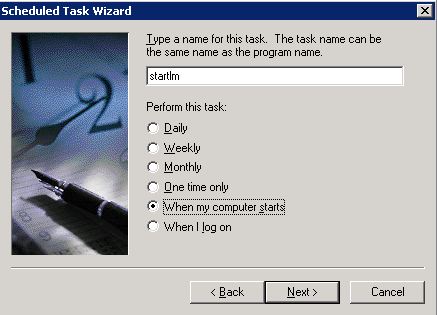 7. Enter the local admin's username and password, and click Next.
8. Click Finish.
9. Reboot the system.
1. Open Windows Services by navigating to Start > Administrative Tools > Services.

2. Right-click the 'ArcGIS License Manager' service and choose Properties.

3. Set the Startup type to Automatic (Delayed Start).

4. Reboot the system.