| Bug ID Number | BUG-000086954 |
| --- | --- |
| Submitted | April 15, 2015 |
| Last Modified | February 24, 2021 |
| Severity | Medium |
| Applies to | ArcGIS Online |
| Version found | 3.7 |
| Operating System | Windows |
| Operating System Version | 7 |
| Status | Known Limit |
Workaround
By design, feature layers are always displayed on top of heat maps and tile set layers. It is not possible to move a heat map above other feature layers in the ArcGIS Online map viewer.

In some instances, it is desirable to display a heat map on top of other feature layers in a map viewer. An alternative is to create a tile package for the feature layers in ArcMap or ArcGIS Pro, and publish the created tile layer to ArcGIS Online. Refer to Using tile packages for publishing hosted tile layers.

Once published, open the tile layer and the heat map in a map viewer. The heat map is displayed on top of the tile layer as shown in the following image: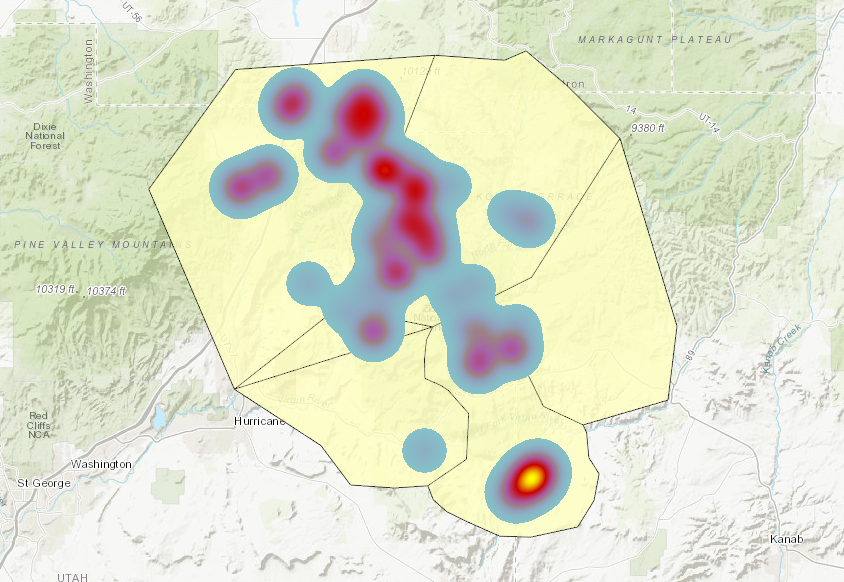 Additional Information
This is by design.
Steps to Reproduce